Vintage Wood Flooring
12.31.2019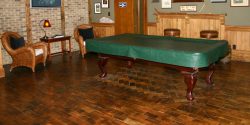 Vintage flooring continues to be popular and people, most of the time are willing to shell out  great amounts for it. This is for the simple reason that a classic never goes out of style. Vintage flooring, pretty much like vintage clothes are those that are either really old flooring that genuinely looks worn and tattered or maybe made up of ...
Some Useful Hints on Hardwood Flooring Repair
12.31.2019
Hardwood floors are an asset in any property and should be well taken care. While they are very resilient, day-to-day wear and tear leaves even the hardest floors prone to damage. Repairing damaged hardwood isn't easy and is better left to flooring professionals. However, should you feel a little bold and daring and decide that this is somet ...