Deciding to move ahead with a new flooring project, whether it is one room, or the whole house, can be very exciting! Once you have chosen the material for your floors, you will need to properly measure each room to determine the floor space. This is a very important step and should be done methodically and with great precision.
Flooring is usually sold by the square foot, so in simplest terms, the square footage you will need is first determined by measuring the length of each room (in feet) times the width of the room (in feet).
It depends on what type of flooring is being installed, but generally speaking, you will need to plan on adding an additional 10% to 20% to your floor space calculations. This helps account for imperfection of the materials, wrong cuts, pattern matching, appropriate seam placement, and other factors unique to the room.
Tools You Will Need for Proper Measurements
To get started, you will need to gather your supplies: pen and paper, measuring tape, and calculator. If the floor is odd shaped, you may need to split the area into rectangles. If the sides are unequal, you will want to use the larger measurements from wall to wall, in both directions. Round up to the nearest foot.
Measure and subtract the space for permanent objects such as a kitchen island or vanity, unless you are using carpeting or vinyl. Allow for irregularities in the room by adding or subtracting space as applicable.
Measure Your Floor at Least Twice
Do your own measurements at least twice, whether you are installing yourself, are hiring a contractor, or working with a retailer who will do the installation. By knowing your measurements ahead of time, you can get a ballpark estimate of how much you will need to budget for the materials and what the costs would be if you decide to pay for the installation.
Your retailer will be helpful in confirming the measurements and requirements for the flooring you choose. If you're using a contractor, they will also want to confirm the measurements as most often their quote for the work is dependent on the square footage of the project.
Use a Diagram to Properly Depict the Space
It is highly recommended that you to draw your layout as a floor plan diagram. That way you can see the shape, write down the exact measurements, and have a clear picture of the floor layout. Be sure to measure every side of where the floor meets the wall. Having a visual will be very helpful for you and for all those involved, be it the retailer or installer. You'd be surprised at the details you can catch and errors you can avoid by having the plan right there in black and white, on paper, and from a bird's eye view!
Explaining the Overage Factor
No matter what material you are working with, your retailer and if applicable, your contractor, will help you get the amount calculated correctly. Accuracy is key and if there are any questions or things that need to be rechecked, it is better to address them sooner rather than later. Each project is unique, and while we have given guidelines for overages, many other factors can come into play especially if creating angles and custom patterns.
Arguably, the biggest factor that can alter how much overage you should account for is the flooring material itself.
Carpeting
For carpeting, you will need to keep in mind the maximum width available for the carpet that has been chosen. Standard width is usually 12 feet. If the size of the room would result in a seam, you will want to plan out the arrangement so that the seam will not be right down the middle of the room. To be sure that the lines are seamless in the final product, add as much as 10% to the square footage needed when installing Berber, patterned, or sculptured carpets.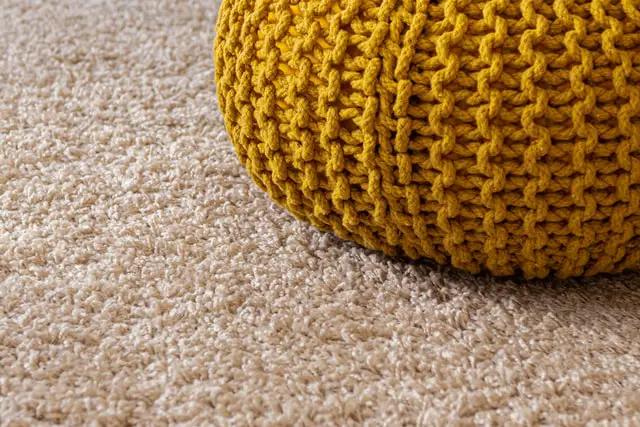 Hardwoods and Laminates
These are both sold by the carton and generally in 20 square foot bundles. It's recommended to add 10% for installations requiring less than 1,000 square feet of material, and 7% when more than 1,000 square feet is required.

This allowance can go as high as 15% for products installed on a diagonal or for lower grade products. The percentage of overage needed for hardwood varies depending on grade, variance in color, and grain. You can get away with a little less overage allowance on laminate flooring as these products don't have as many inconsistencies.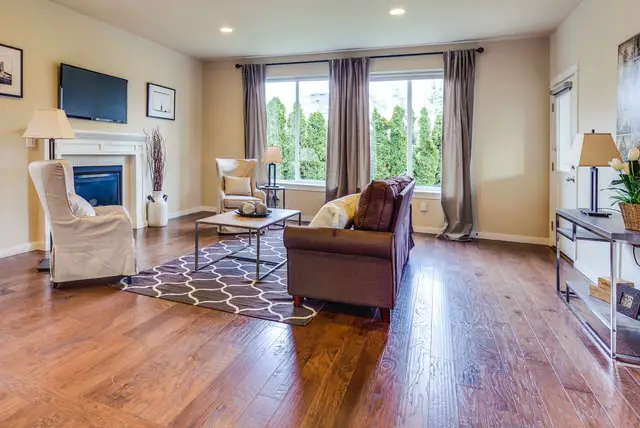 Vinyl
Vinyl is sold off of a roll and the width of a roll can vary from ½ foot to 13 feet 2 inches depending on the style. Add about 2 inches for doorways and as much as 10% to the total square footage needed to allow for pattern matching. Don't discount vinyl as an affordable solution for certain areas and functionalities in the home.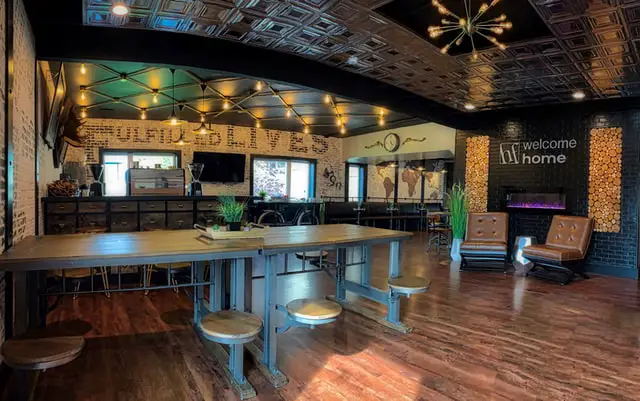 Stone and Tile
When working with tile or stone, purchase 10% more than you expect to use, but keep in mind you may need 20% more based upon the experience level of the installer. It is not unusual to have broken or chipped pieces in the bundle you purchase and while these can be used for smaller areas where they can be cut to size, this allowance should be enough to cover these damaged pieces.

This is another instance when you will want to plan either a vertical or horizontal layout based upon how the room is shaped or entered.
Do I Really Need to Measure Extra?
Installing flooring isn't easy. It's a skill, and an art. The resulting new floor is a worthy investment in the beautification of your home. Every flooring project will require cuts so that the materials can fit exactly within the space. Even professional installers make mistakes. There are a few reasons that you will want to be liberal in your measurements, here are a few:
1. Imperfection
Sometimes cuts may not fit perfectly and will have to be redone. Pieces do get damaged during the project and pieces may be unusable for various other reasons. Flooring materials made out of natural products will have some flaws that add character and interest, but some flaws will make a piece not suitable to include. Have enough materials so that you don't have to skimp. You will be much happier when every piece fits perfectly and the finished area looks professional.
2. Closets
Most likely you will want to do the closets in the same flooring material as in the room they adjoin, especially in the bedrooms, so don't forget to include that measurement. Always add 2" for the doorways so the carpet meets the flooring in the next room. Simple things like finished closets and doorways make a big difference in creating a professional look!
3. Damage or Repair
There is a good chance you will need some more material down the road, too, if you decide to expand your space or have damages you need to repair. A flood, overflow, leaky sink, or broken appliance that ruins a portion of the floor doesn't have to become a disaster if you have the extra flooring to replace the damaged area.
4. Matching
It's quite possible that the lot and dye of your installed floor will be unavailable at a later date or the manufacturer could discontinue the style altogether and by then it will be difficult to match, if you need to do repairs. If your flooring is custom, acquiring even a small amount in the future may be very expensive or not even possible.
5. Selling Your Home
The extra box of wood, laminate, tile, or stone flooring can also be used for sprucing up worn areas and a comfort to a buyer if you decide to sell your home, so don't be short-sighted about the value of your flooring investment.
No matter how big or small your project, or whatever materials you chose, taking the time to properly measure, plan, and allow for overage will help ensure that your new flooring endeavor will be a lot of fun and very rewarding. Best of luck and enjoy!