A sunroom creates a transitional space between your home and yard. These spaces are often breezy and light-filled, giving you a view of the outdoors while protecting you, your furniture and your flooring from the elements.
Top Needs of Sunroom Flooring
You want your sunroom to feel as inviting and cozy as your living room. However, you can't always use the same flooring in a sunroom as you would in a traditional indoor living space. Consider the following factors when choosing flooring for a sunroom:
Durability
Your sunroom is exposed to harsher elements than the other rooms in your home. If the space isn't air conditioned, it's probably more humid than your living room. Even if it is climate-controlled, a sunroom is often exposed to intense sunlight.
Your flooring needs to withstand the heat and resist damage from UV rays. It must also accommodate extreme temperature changes. Some of the less rugged materials can crack or buckle if the weather shifts rapidly.
Color
The abundant sunroom flooring options make it easy for you to select a color that complements your style. You don't have to match it with the rest of your home.
Many people choose neutral colors for their sunroom flooring to highlight the natural feel of the room. Lighter colors are often preferable to dark ones because they reflect sunlight. Dark hues absorb light and can feel hot to the touch. This might be a benefit in the winter, but it can render the room unusable in the summer.
Moisture Barrier
Especially if it's in a screened-in porch or high-humidity area, flooring must be moisture-resistant so that it doesn't rot, warp or develop mold. Therefore, you should choose a material that naturally repels moisture.
You'll also need to create an adequate moisture barrier below the floor. Placing organic materials, such as hardwood, against a concrete slab invite moisture problems. If your sunroom is raised, have a vapor barrier installed in the crawlspace below it.
Hardwood Flooring for Sunrooms
Hardwood is a popular choice for indoor floors. Many homeowners extend it to the sunroom to provide a cohesive look throughout the home. Many types of hardwoods are ideal for transitional spaces.
White oak is one of the best hardwoods for sunrooms. This dense wood resists moisture and scratching. You can extend its weatherproof properties by using an adequate sealant.
Avoid using richly colored hardwoods or dark stains. These will fade in a sunlit room. Choose a light color or planks with a dappled tone to reduce the bleaching effects of UV light. Protecting the flooring with a carpet and moving the furniture regularly will help prevent sun damage.
Pros:
Natural, traditional look and feel
Doesn't get too hot in sunlight
Brings a sense of warmth to the space
Cons:
Not the best choice if the room isn't climate controlled
Feels cold in the winter
Not intended for floors that get rained on
Not ideal over a concrete slab
Can You Use Engineered Hardwood in Sunrooms?
Engineered hardwood is more water resistant, moisture tolerant and stable than natural hardwood. It stands up well to fluctuations in temperature and doesn't absorb moisture readily. Because engineered hardwood is made of multiple layers, it has a sturdier composition. The layers are applied in different directions, providing strength and reducing the chance that the wood will warp or buckle.
The top layer is a hardwood veneer, which delivers the visual appeal and adds protection. The veneer makes the surface look like real hardwood. If the veneer isn't thick enough, though, it can scratch or peel off easily. Thin veneer also reduces the flooring's water-resistant qualities. Therefore, you should look for engineered hardwood with thick, high-quality veneer if you plan to use it in a sunroom.
Pros:
Excellent choice for installation over a concrete slab
Broad range of colors and styles
May be more affordable than hardwood
Cons:
Difficult to refinish if the flooring gets damaged
Not suitable for exposure to rain
Low-quality versions won't be durable in a sunroom
Is Tile Flooring Ideal for a Sunroom?
Tile is a common choice for sunroom flooring in warm, humid climates. Many types of tile are heat and fade resistant. This flooring is also waterproof, making it perfect for rooms that are open to the elements. You can sweep and mop tile floors easily. However, tile flooring can be difficult to vacuum. Still, it handles heavy traffic and spills.
But tile can crack when your kids run through the sunroom in their cleats or your cat drops a potted plant on the floor. Tile also makes for a hard landing if you or a toddler trip and fall. Still, you can throw a rug onto the floor to make it more comfortable and protect it from damage.
Pros:
Stays cool in the summer
Easy to clean
Create unique patterns and mosaics
Cons:
Intolerant to extreme conditions
Not ideal for cold climates
More fragile than some other options
Installing Vinyl Floors in Sunrooms
Vinyl is one of the most waterproof materials around. In fact, it's used to make pipes and shower curtain liners. Therefore, you might want to consider it for a sunroom. It holds up well to heavy traffic, spills and falling pots. It can feel cool underfoot. However, it's not as refreshing as tile.
Because vinyl comes in planks, it's easy to install yourself. It can be a budget-friendly option for sunroom flooring, giving you a chance to show off your style without breaking the bank. It offers an affordable flooring option for every room, helping you maintain a cohesive look throughout your home.
However, vinyl can become brittle when it's exposed to intense sunlight. Therefore, it might not be the best choice for a sunroom with lots of windows. Using plants, furniture and throw rugs strategically can protect this type of flooring and help it last longer.
Pros:
Waterproof
Easy to install yourself
Comes in unique and traditional designs
Slip resistant
Cons:
Susceptible to fading
Deteriorates in bright sunlight
Laminate Flooring for Sunrooms
Laminate is a combination of materials that are engineered for affordability and ease of use. Layers of high-density fiberboard are pressed together to create the planks. This material is covered with a melamine laminate that is printed to mimic any material, including hardwood and tile. The laminate is covered by a clear, protective coating, which prevents moisture from penetrating the planks and safeguards the surface from wear and tear.
Pros:
Springy and comfortable underfoot
May resist fading better than vinyl
Easy to clean
Cons:
Not the most waterproof option
Can't be exposed to the elements
Not as tolerant of heavy foot traffic as other materials
What About Carpet in a Sunroom?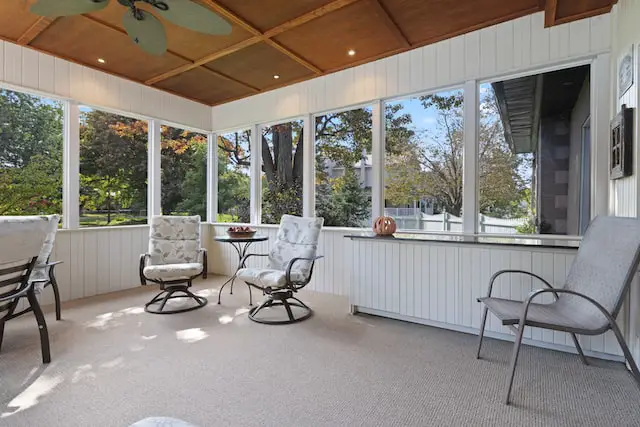 Putting carpeting in a sunroom protects the floor from foot traffic, moisture and sunlight. While carpet makes the room feel comfortable and welcoming, it isn't always the best choice.
Carpet traps dirt particles, preventing them from entering the rest of the home. But you might have to spend extra time cleaning the rug in your sunroom. You should avoid traditional rugs and carpeting if your sunroom is humid.
However, you might opt for an indoor-outdoor carpet, which won't absorb moisture. Carpet tiles are another great choice that you can easily reinstall if they become damaged.
Pros:
Comfortable underfoot
Protects the floor from dirt, fading and damage
Wide selection available
Reacts well to extreme temperature changes
Cons:
Gets dirty easily
Absorbs moisture
Increases the risk of mold and mildew growth
How to Make the Best Choice
If you can't decide, research a few different materials. Talk to experts that can help you envision the final results. Does a particular aesthetic attract your interest? Once you select a few options, think about their benefits and disadvantages for your lifestyle. Which one fits best with your budget? The best choice will begin to make itself apparent.