5 Bedroom Flooring Choices
5 Bedroom Flooring Choices
It's easy to overlook the importance of bedroom flooring. Let's face it, many of us think of our bedroom decor last when making decisions about our home; we tend to pay more attention to those rooms that might be seen by visitors, or get a lot of family traffic. Yet, we spend on average 26 years of our lives asleep, with an estimated 7 years on top of that just trying to get to sleep. Even on the minimum end of the scale, that's a lot of bedroom time. Therefore it's important to treat the bedroom not as an afterthought, but as a valuable place of refuge and relaxation, and decorate accordingly.

But where does bedroom flooring come into this? Well, not only will it complement the other design choices you make in the room, your flooring choice will have myriad other effects upon the way you live with the space. A cool, natural linoleum can give a sense of the uncomplicated and sparse when all else in your day has been chaotic. A plush carpet will envelop your bare feet; a source of comfort at the end of a stressful day.  From practical perspectives, to the holistic effect on your life, compiling your bedroom flooring ideas should be as important as your choice of wall color or even the bed you'll be sleeping on.

The good news is, whether you are decorating on a budget, have highly unique bedroom preferences, or have limited bedroom space, rest assured that there are a lot of choices available for having your bedroom reflect your personality and your lifestyle. From material considerations to aesthetic appeal, your bedroom flooring ideas can generally be achieved in a way that suits both your taste and your wallet. But, we get it — the sheer number of options available can be a bit overwhelming. So, we've put together a guide to some of the popular, practical, and budget-wise options.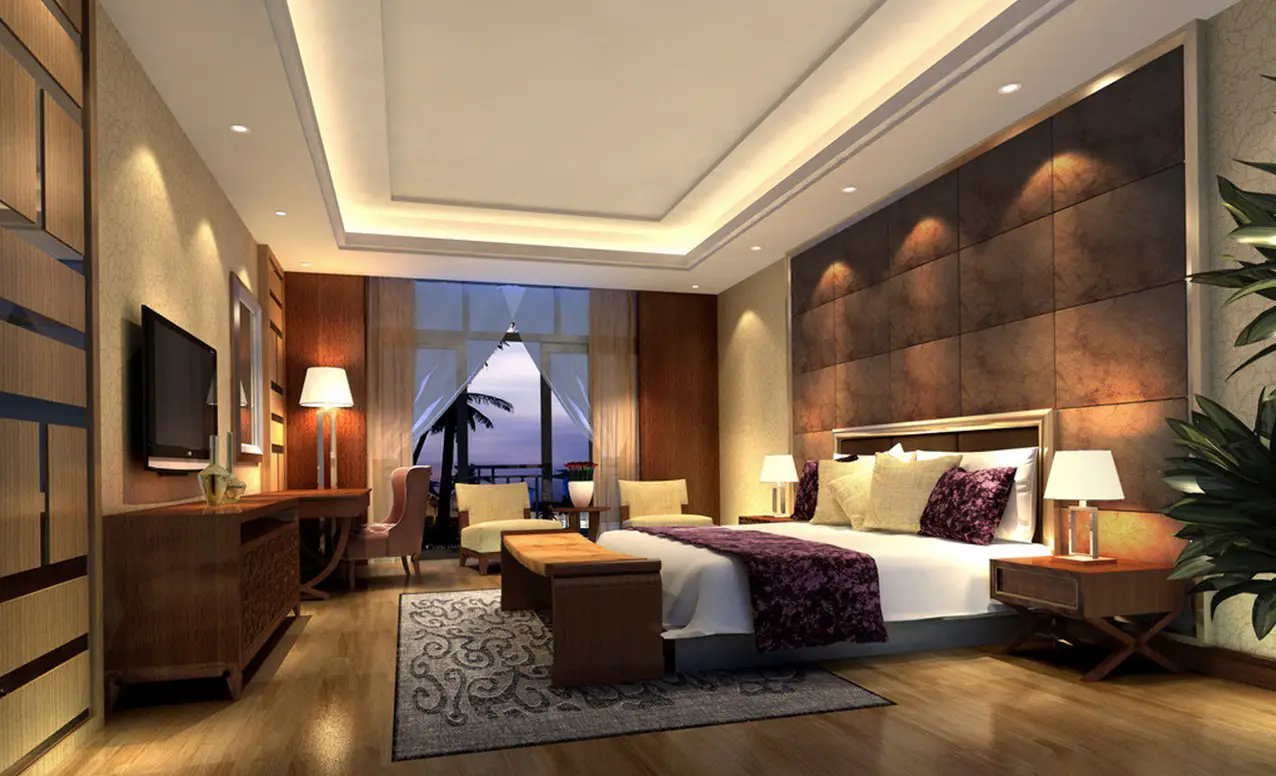 Now, there are a lot of flooring materials that can be used for bedrooms, each will have its own advantages and disadvantages so be sure to make a mindful decision when choosing bedroom flooring. It has to meet your needs and preferences and reflect who you are. It can be something funky or edgy or it can be a traditional one, anything will do as long as it meet one's needs.
1. Carpets, Carpet Tiles and Area Rugs in Bedrooms
A carpet is probably the most traditional bedroom flooring choice, if not always the most popular. This is primarily because of the warmth and comfort they provide to your feet. Depending on your choice of carpet, there can be either an inherent sense of luxury in its smooth and soft texture, or a firmness that gives the impression of stability and practicality. Utilizing a high-pile carpet that exhibits softness also adds a certain degree of insulation, offering a quieter and more restful sleep.
An important aspect to consider when making a choice about your bedroom flooring, is the amount of traffic it will receive. For adults, while we spend a lot of time in the bedroom, this generally isn't spent walking around on the floor. For most of us, our shoes come off long before we make it to this room, so we don't really need to consider how well the material we choose will wear under footfall. Therefore we can feel free to consider bedroom flooring ideas that are more in line with our aesthetic or comfort requirements. This means that plush or velvet twist styles for that expensive, luxurious appearance and feel are an option to you.
That said, those of us who are parents know that our bedrooms can also become a regular point of visitation by our children. Thankfully, there are carpeting choices that blend both comfort and a sense of practicality. Loop pile carpets — as the name suggests, created from uncut loops of yarn or synthetic materials — have the advantage of being soft and comfortable, while also being durable.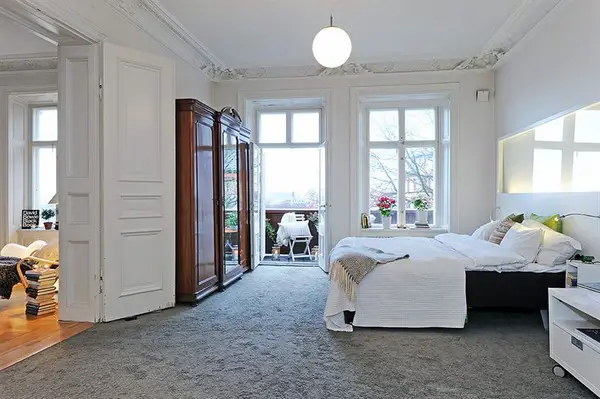 One of the major challenges in having carpets in bedrooms is the maintenance – spilled liquids tend to seep in and stain. Plus, they are prone to dust, which makes them a haven for microbial organisms — so they'll require thorough maintenance and regular cleaning. Another potentially detrimental factor is that they tend to have a shorter lifespan compared to hardwood and natural stone floors which can be refinished, repainted or, in the case of tiles, re-grouted.
This is where it can also be worth your while considering a combination approach, utilizing carpet tiles and area rugs. These can often be more practical than wall-to-wall carpeting, particularly in children's bedrooms which see a lot of action and are a haven for spillages. One of the primary advantages of carpet tiles is their ease of installation and modular nature; meaning that you can replace sections should they get permanently stained. If carpet tiles aren't to your aesthetic tastes, area rugs also present a practical solution, being easy to remove and wash in order to keep off dust, mites and other allergens.
Finally, it's worth taking into account that one of the key points that makes carpet an attractive bedroom flooring idea, is the cost. Compared to hardwood flooring or natural stone tiles, carpets tend on the whole to be more pocket friendly in both material and installation. On average, the lower quality carpets come in at around $7 per square foot, with some luxury ranges going as high as $12 per square foot (2020 prices), and if you are able to install this yourself, you can save on contracting costs too.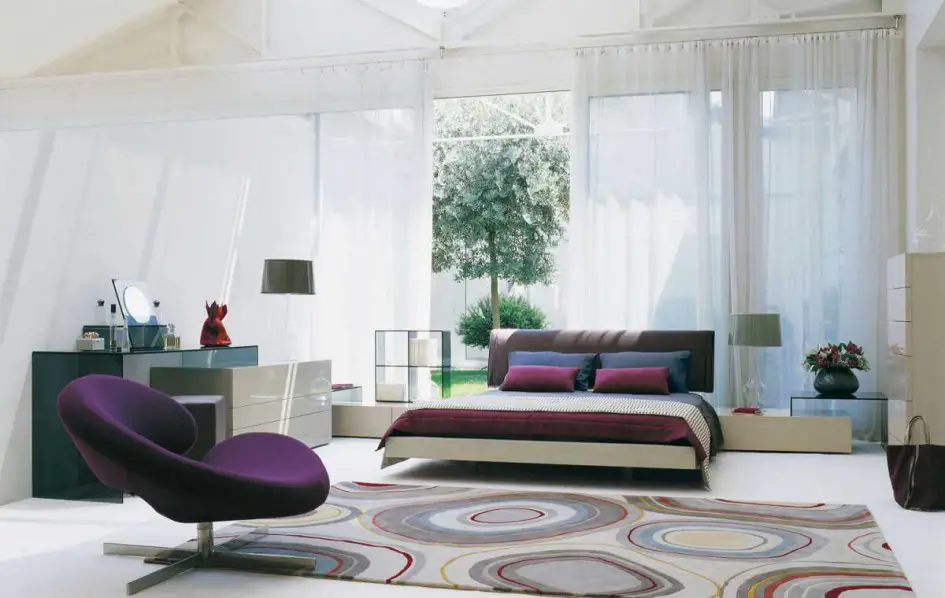 2. Cork Bedroom Flooring
When compiling your bedroom flooring ideas, the prospect of cork might seem like a strange one. However, next to carpet, one of the most common and popular materials for bedrooms is cork flooring. Its proven resilience and durability, alongside other amazing properties have made cork flooring a favorite for more than a century.
If comfort is a priority for your bedroom flooring, but you don't want the maintenance hassle of carpeting, cork can be an ideal solution. Cork flooring in bedrooms is a great option mainly because — like carpet — cork is warm and soft underfoot. It features a similar cushioned sensation, which can be enhanced by choosing thicker sheets of the material.
It also has excellent insulating properties. Cork is used to soundproof recording booths in professional studios. They're also popular among designers of libraries and offices, due to their sound filtering qualities. As bedroom flooring ideas go, cork can provide the opportunity not only for comfort, but improve your ability to treat the room as a peaceful retreat.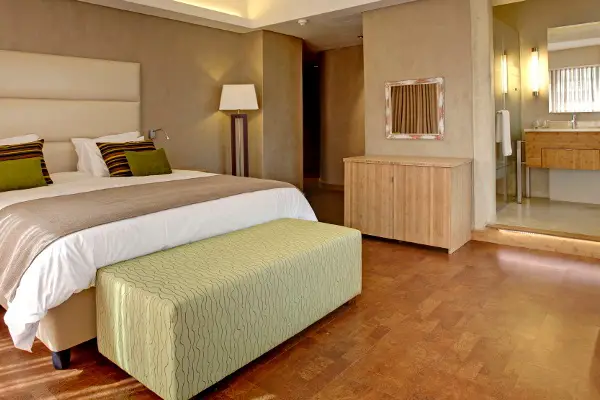 One disadvantage of cork flooring in the bedroom is that while the material is naturally resistant to damage, and can even go back to its original shape after being dented, it is not immune to daily wear and tear. Sure, bedrooms are light traffic areas but that is not always the case if you have toddlers and pets running around.
Cork's natural softness makes it vulnerable to pet claws and tearing. Therefore, in order to ensure a certain amount of longevity in your bedroom flooring choice, it's worth taking time to inform your family about best practices, and even create boundaries regarding pets in the bedroom area.
Cork is one of those materials that tends to come in at the lower end of the budget, too. Available in tiles or in longer planks, the average price fully installed in the current market is around $3 to $15 per square foot.
3. Soft Rubber Bedroom Flooring
Bedrooms not only need to be designed to suit adults hoping to get a good night's sleep, but also as combined rest and play areas for children. From spilled fluids, to ground-in dirt, and additional wear due to active xxxx, bedroom flooring for children can face some extreme challenges. This is where rubber can become an unexpected asset.
Rubber is commonly used in gyms and outdoor areas because it's durable, water-resistant and stain-resistant. These very same characteristics also make it a great choice indoors, alongside the bonus fact that it's soft and yielding; as a bedroom flooring idea it can be a boon not just for its tolerance to damage, but also for its ability to soften the blow during trips and falls.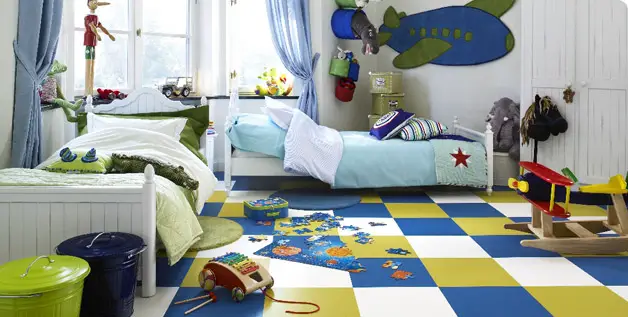 It's generally easy to maintain and does not require any particular treatments following installation. They can come in tile form, or rolled as narrow sheets, and from an aesthetic perspective these can be mixed-and-matched in a variety of colors to suit your child's personality as well as their lifestyle.
There are, however, a couple of key drawbacks when it comes to choosing rubber as bedroom flooring. The first is a tendency to have a pervasive odor. While this is non-toxic, it can be unpleasant for some time following installation, and sometimes triggers allergic reactions. The other downside is with regard to availability. Rubber flooring is most often utilized in gyms and activity areas, making it something of a niche option for bedroom use. As a result, fewer domestic manufacturers and suppliers are making it available with bedrooms in mind — meaning that you may have difficulty sourcing it in the quantities and colors you need.
As a comfortable, hard-wearing option, you'll usually find that rubber flooring tiles come in around the mid-to-high price range. In the current market , they average around $10 per square foot, with installation usually adding a couple of dollars on top of that.
4. Padded Vinyl Bedroom Flooring
Vinyl continues to be a popular choice for flooring in general, but while it tends to be cheap and versatile, is not really an ideal bedroom flooring in and of itself. It is characteristically thin and very easily adopts the coldness of the underfloor layer upon which it's installed. To solve this dilemma, manufacturers came up with a brilliant idea to add comfortable padding beneath vinyl flooring. As a result, there is additional cushion and warmth to support one's foot.
Aesthetically speaking, vinyl isn't usually one of the first bedroom flooring ideas many of us would consider. Traditionally, we find it in kitchen or bathroom areas. However, it's worth bearing in mind that the tiled nature of vinyl means that there is the possibility to tie this into your design theme in the bedroom; creating a mosaic or checkered pattern that compliments your other design choices. It's easy to install, too, making it a great option for DIY enthusiasts and flooring amateurs alike.
While vinyl might not be your first choice for warmth and comfort, there are options that allow you to stray away from the traditionally shiny and clinical style. Some manufacturers offer vinyl tiles that are layered with fuzzy and cushioned textures.
A single major drawback against vinyl is that it is sourced from synthetic materials, and as a result it does not easily decompose. Therefore it's probably not going to be your first choice for bedroom flooring if you're looking for something that's eco-friendly.
Of note, too, is that it's also not uncommon for bedroom owners to have gotten tired of their old vinyl flooring long before the flooring shows signs of wearing out. That said, vinyl is not among the pricier flooring options, coming in on average around $2 to $6 per square foot. So, if you get bored of it within a few years, replacing is unlikely to be a costly or labor-intensive ordeal.
5. Linoleum Bedroom Flooring
If vinyl is not particularly to your tastes, a great alternative to consider is linoleum flooring. Aesthetically, linoleum resembles vinyl. It can also be produced in a wide variety of patterns — from wood grain, to marble — giving it just about the same level of versatility that vinyl has.
Perhaps the primary pro of linoleum as bedroom flooring is that it's produced without the hazardous chemicals used in making vinyl. Linoleum is sourced from natural materials, from a combination of mineral fillers, wood rosins and dusts, coloring pigments and linseed oils. The result is a biodegradable product, which does not pose any threat to the environment.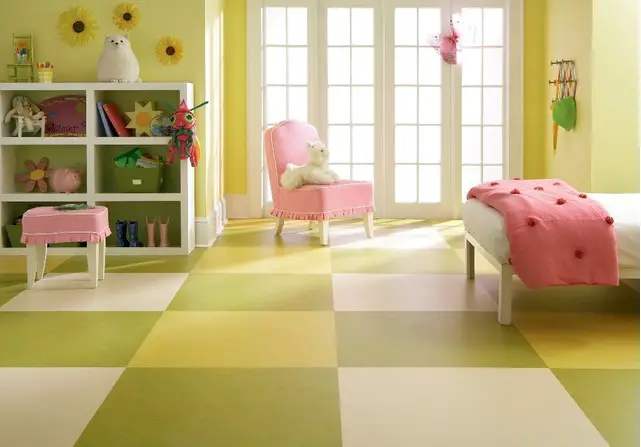 It tends to be one of the more durable flooring options, too, and it's manufacturing process is optimized to ensure surface damage such as scratches are unlikely to be visible when they occur. That said, its versatility means that it will show any imperfections that lie beneath the surface — care must be taken during installation to make sure the subfloor layer is smooth and level in order to produce an aesthetically pleasing finish.
In terms of pricing, linoleum is a relatively economically sound option. On average, sheets of the material are around $5 to $7 per square foot.