Even though it's not the most versatile, durable or expensive material, marble flooring holds a special place in our impressions of luxury. Marble is certainly elegant. But it can be as understated as it is dramatic. Some marble is so subtle that you mistake it for quartz or tile at first glance. Is it the epitome of luxury? And if you love the look of marble flooring, you probably wonder, "Is marble flooring expensive?"
What Makes Marble Flooring so Luxurious?
There is something so serene and refreshing about marble. It's not just the delicious sensation that you get when you glide across it in bare feet, but also the way that it makes you marvel at the beauty of nature.
Marble is as grounded as it is lavish. It is formed in the ground and mined from quarries. Each slab of marble is unique. Your marble floor will not be identical to any other marble floor. This rare quality makes marble desirable.
But marble is a natural stone with inherent beauty. It can be polished to a smooth sheen, making it silky to the touch. The reflections that bounce off of the surface create depth and illumination. Although it is cool, marble retains temperature well and feels comfortable underfoot.
Marble flooring is also extremely durable. When maintained properly, marble can last many lifetimes. Because it is water resistant, marble flooring is suitable for high-moisture areas, such as kitchens and bathrooms. When it is used in living spaces and bedrooms, it offers a surprising warmth.
How Much Does Marble Flooring Cost?
Most residential marble flooring is made with marble tiles. These cost between $5 and $40 per square foot. Professional installation protects your investment and ensures the longevity of the floor. Installation costs an additional $3 to $7 per square foot. According to HomeAdvisor, the average total cost is between $10 and $20 per square foot. Luxury marble slabs cost between $50 and $80 per square foot.
Below are some general ideas of the cost of marble compared to other flooring materials (per square foot):
Factors That Affect Marble Flooring Prices
The following elements influence the price of marble flooring:
Flooring type – Marble tiles are much less expensive than solid slabs.
Complexity – An intricate design or complicated layout can boost the cost.
Additional prep services – Installation costs more if it includes floor removal or subfloor repair.
Custom sizes – Standard marble tiles are generally 12 by 12 inches or 12 by 18 inches.
Thickness – Thicker tiles are more durable and more expensive.
Finish – Tumbled finishes reduce the slickness of the surface, which is ideal for bathrooms and poolside areas.
Basic tiles usually hover around the $10 per square foot range. Specialty marble typically starts around $45 per square foot.
How the Grade of Marble Affects the Price
Marble's quality and appearance are rated on a grading system. Grade A is more expensive than grade D. However, it's not always preferable for flooring.
Grade A – Few natural imperfections, consistent coloring and little veining; this is the least dramatic type of marble.
Grade B – Few flaws, dry veining; this marble contains subtle veining that may be filled to reinforce the structure of the stone.
Grade C – Moderate flaws, significant dry veining, voids and pitting; the manufacturer fills chipped areas and dry veins to stabilize the marble.
Grade D – Significant flaws; this grade requires repairs before it can be polished and used, but it results in some of the most dramatic effects.
Types of Marble by Cost
The type of marble that's used for decorating is classified into several categories. Each group has a distinct appearance and quality. The following are the most common types of marble, arranged by price per square foot:
Carrara – White surface, uniform texture, little to no veining, $6 to $12
Crema Marfil – Light surface with beige base, honey-colored veining, $6 to $12
Calacatta – Light surface, warm glow, subtle veining, $12+
Breccia – Dark and dramatic, comes in many colors, high contrast, $10 to $30
Emperador – High contrast, illusion of depth, increased variation in veining and colors, $70 to $90
How to Save Money on Marble Flooring
Although marble is one of the most expensive flooring materials, it pays for itself in longevity. You can save money on flooring repairs and replacements down the road by maintaining your marble floor properly.
Maintain Your Marble Floor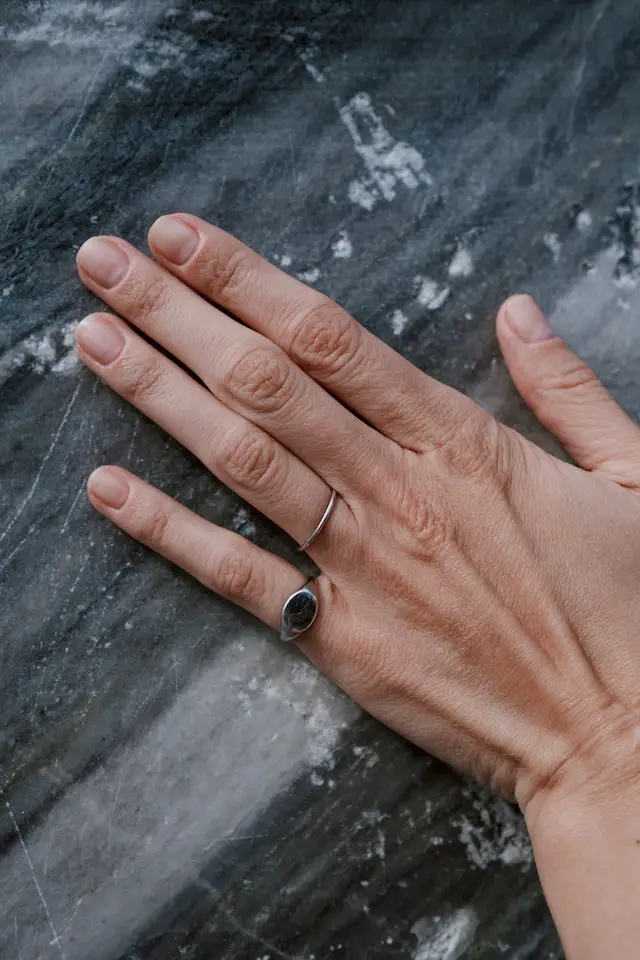 You'll get the most life out of your luxury flooring by keeping it clean. Sweep and use a dust mop frequently. Doing this will eliminate the particles of dirt that degrade the floor. Be careful when using a vacuum cleaner on marble floors. The wheels and hard components can mar the finish.
Blot up spills quickly. Acidic foods and beverages can stain the marble. Therefore, you don't want to spread the stain by wiping it around the floor. Only use mild dish soap with water or a specialty product to deep clean marble flooring.
Use an appropriate sealant to protect your marble floors from stains. Depending on the level of traffic that your floor is exposed to, you'll need to reapply the sealant once or twice a year.
Marble feels hard under your feet, but it is prone to getting scratched and scuffed. Protect high-traffic areas with area rugs. Keeping rambunctious pets and children's toys away from marble floors will also reduce the chances of damaging your floors.
Choose Small Tiles
Although marble slabs make for impressive flooring, they're expensive. The price of marble increases with larger tiles. However, smaller tiles may fall within your budget. Standard-sized tiles are also more cost-effective than custom sizes.
Fill Small Spaces
You don't have to cover your entire floor plan in marble to benefit from its splendor. Use it as an accent in smaller areas, such as bathrooms, hallways and foyers. Creating a pattern with small tiles creates interest without requiring truckloads of material. You can also create a base with lower-priced tile and reserve the specialty marble for accents.
Hire a Professional
While it costs more to hire a professional than to lay the tile yourself, working with an expert saves you money in a number of ways. They're insured, which means that you won't be liable for costly mistakes or accidents on their end. Marble requires special equipment, and a professional is likely to work more efficiently and produce less waste. Moreover, professional installation optimizes the longevity of your floors. You're less likely to have to deal with costly repairs down the road.
Consider Alternatives to Marble Flooring
If you love the look of marble flooring but don't feel aligned with the price tag, you have plenty of options for achieving similar results. The following materials come in designs that mimic marble but have a lower price tag:
Porcelain and ceramic tile
Vinyl plank flooring
Laminate flooring
While these materials don't have the same feel or requirements of care, they may offer benefits that make them preferable. For example, vinyl and laminate are softer underfoot and excellent for families with kids. Porcelain and ceramic don't stain as readily as marble. Check out some of our other flooring articles to research the best options for you.